Limbertwig Press publishes small books that help hospice patients and families feel more prepared, at peace and confident as caregivers. Your satisfaction with the booklets is money-back guaranteed.
Considering Comfort Care: A Guide for Families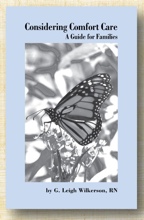 • For info-visits and new referrals
• For Family Education
• For MD/ Provider Outreach
• For Community Outreach & Education
Introduces hospice in a gentle and convincing way. Helps overcome the myths and fears that surround hospice and ease fears that delay hospice care. Empowers families to ask for hospice sooner. A great resource for churches, donors, civic groups and physicians. Educates your community as you publicize your hospice. (32 pages) By G. Leigh Wilkerson, RN
• We are using Considering Comfort Care in a folder that we are giving out to potential patients who contact us, our physicians and local pastors. Many have said that it is an excellent resource for them—a TX hospice
• Considering Comfort Care has been very helpful for evaluation-only visits and community education—a AZ hospice
• We sent copies to every provider in our coverage area because it introduces hospice so well—a PA hospice No one could read this booklet and still be opposed to hospice—it's written that gently and that well—a CA hospice
A Different Season: The Hospice Journey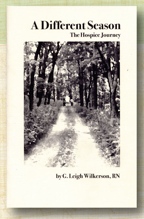 • For every family you admit
• Covers the entire hospice experience, admit to initial bereavement
•Written for family caregivers
• Useful for new staff and volunteer training too
#1 Bestseller. Guides hospice families from the first day of admission through the dying process. Covers the hospice concept, services, caregiver challenges, family dynamics, pain control, food/fluid issues and more! Includes complete coverage of the dying process. Available in Spanish. (32 pages) By G. Leigh Wilkerson, RN
• We use them with every admission…makes a difficult time easier for families to understand—A TX hospice
• One of our QAPI/PIPs was to increase caregiver confidence. We used A Different Season for family education…we noted improved responses. Families need reinforcement of verbal teaching and this is an excellent too.
• Thank you for developing this wonderful booklet —a WI hospice Caregivers love it—a NM hospice
• This was so helpful to me, I can't imagine having been without it—an AR family
• The book covers everything that we want to cover with our patients, but with a softness. Great job!!—an IN hospice
• Like another staff member you can leave with the family!—an AR hospice
Making the Most of Every Moment: A Patient's Guide to Living with Hospice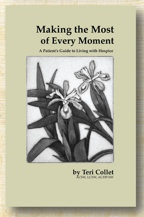 • For Hospice Patients
This gently written booklet helps your alert and oriented patient face the tough role changes, complete a loving legacy, put affairs in order and understand how the hospice team can help. A guide you can leave in your patient's hand, knowing it will keep comforting and teaching—even after your visit it over. (32 pages) by Teri Collet, ACSW, LCSW, ACHP-SW
• Finally! Something written just for the patient…a much-needed resource—an AR hospice social worker
The Memory Keeper: Glimpses of a Lifetime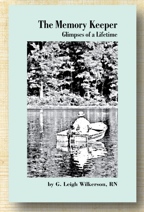 • For Life Review with patients and family
• Excellent volunteer activity
• Good for community and church outreach programs too
This workbook provides questions to elicit memories. Space provided to write recollections. Family have conversations that get to deeper meaning, not just random facts. (32 pages) By G. Leigh Wilkerson, RN
• I heard stories I'd never heard my Mom tell—an AR family
• We enjoy your booklets; they are well-written and easy to read and understand—a WY hospice
When Time is Short: The Dying Process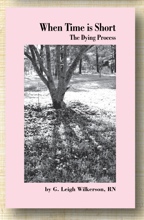 • Simple, small booklet for family and caregiver
• For the last weeks/days/hours of life
• Focuses on the dying process only
• Excellent for inpatient units
Explains the dying process simply for families. Very easy reading level and simple layout makes for quick understanding, but with sensitivity. Describes helpful actions for families during the process. (12 pages) By G. Leigh Wilkerson, RN
• The booklets are great! They are easy for patients and families to read and have been a great addition to our program—a PA hospice
• A very clearly written little booklet. The topics are right on track with what our patients & families are going through—a WA hospice
Request free samples for hospices and medical agencies.
Easy online order form and pricelist for hospices and medical agencies. No credit card required.
Download descriptions, pricelist and fax order form.
Your satisfaction with the booklets is money-back guaranteed.